MARK FERNANDEZ BSc MRICS
Mark Fernandez is a qualified chartered surveyor and has worked in commercial and residential property for over 35 years specialising in the Thames Valley area. He spent his early years in London at Jones Lang moving on to Arlington Securities (part of BAE) as development director overseeing the master planning of business parks and mixed used projects during the early 90s.
He is CEO and 100% shareholder of Fenchurch Estates Ltd, a company that he has run for over 25 years. The company originally specialised in constructing and developing high quality office schemes and has an enviable reputation for its highly professional and innovative approach to asset management and planning. Since 2009 the core business of Fenchurch Estates has been the operation of a successful freehold serviced office centre in Maidenhead and the asset management of commercial and residential property.
Mark Fernandez is an experienced provider of small office schemes and serviced offices. Despite challenging market conditions in 2009 he oversaw and asset managed the radical transition of an open plan empty 16,000 sq ft office building with zero income to a 100% fully occupied office centre with 12 tenants and a gross income of £479,000. The building,2 Braccans Bracknell was recently sold.
Aged 59, he is married, lives in Winkfield,Nr Windsor and has 3 children. With his wife, Stephanie he shares a passion for home refurbishment and self building and they have carried out 4 major domestic projects in the last 15 years. Their latest project was recently featured in the Jan 2018 BUILD IT magazine. He cares passionately about his local community and is a member of the Winkfield Neighbourhood Plan Steering group. A season ticket holder at Spurs he also enjoys tennis, snow skiing, real tennis and sailing. He is a qualified football referee and is responsible for the training, development and coordination of young referees for Ascot based Berks County FC.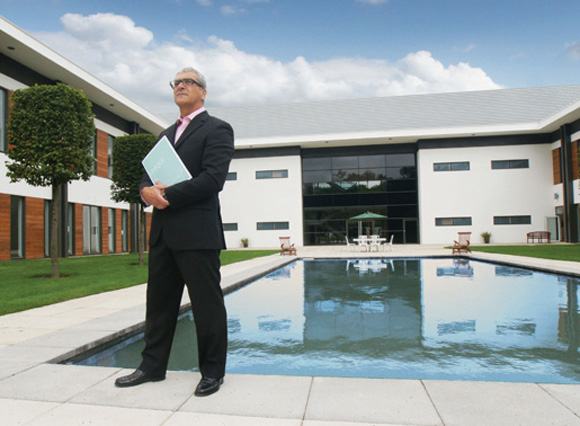 Mark Fernandez at Beaufort Park